Role: UX Research, Interaction, UI Design
Duration: January – March 2022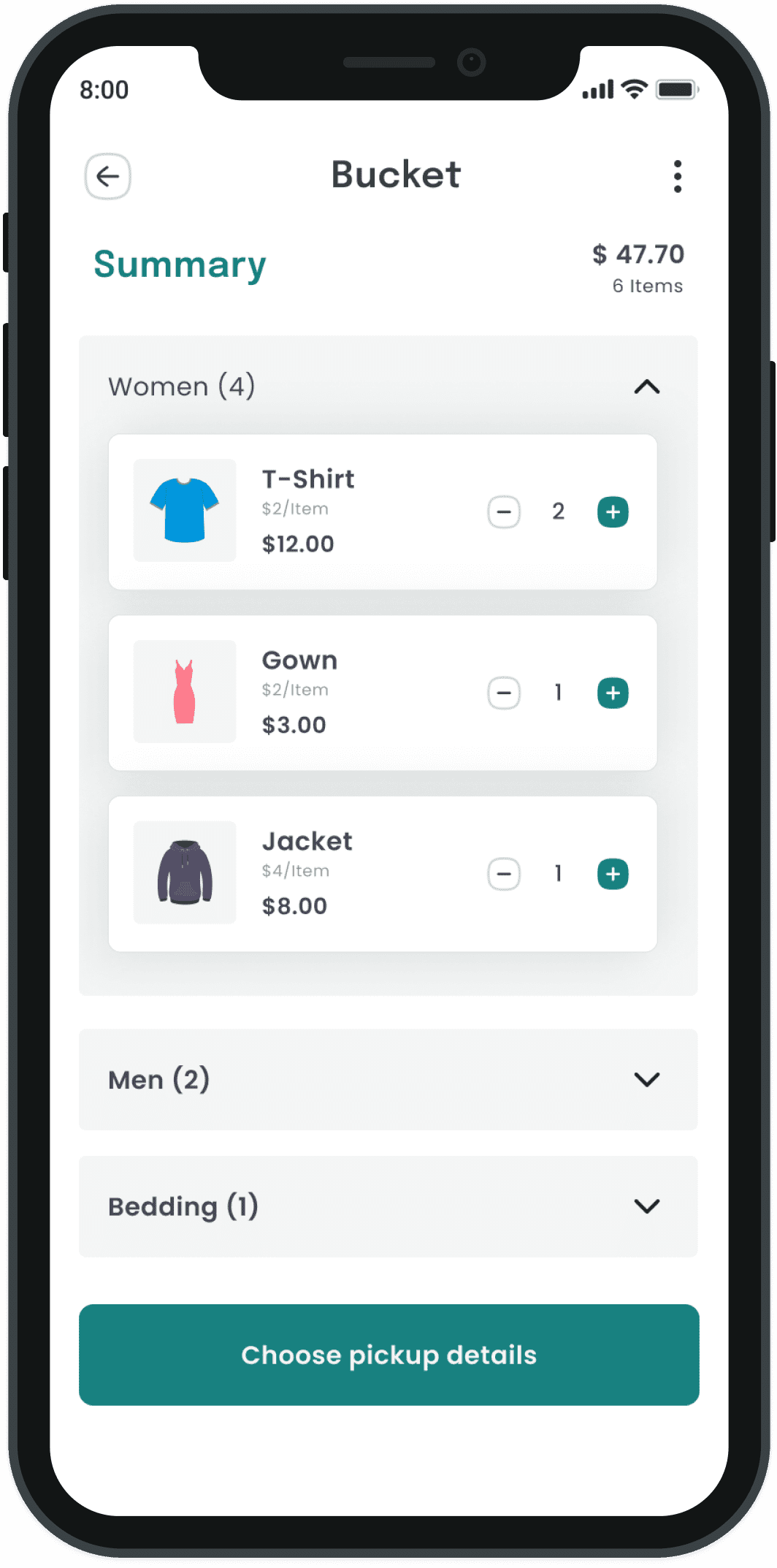 An on-demand laundry and dry cleaning application for busy professionals and entrepreneurs.
Busy professionals and entrepreneurs always find the cleaning of their wears discomforting and inconvenient because of the nature of their work.
Local laundry vendors have low customer satisfaction. Busy professionals and entrepreneurs always complain about the delivery time and the misplacing of laundry clothes.
To provide an on-demand laundry and dry cleaning service for professionals so they can focus on being productive.
I opted to use the Design thinking UX framework for this project. This framework helps me in addressing the actual user problems. Its process involves empathizing with the user, defining the problem, ideating, prototyping and testing our solution.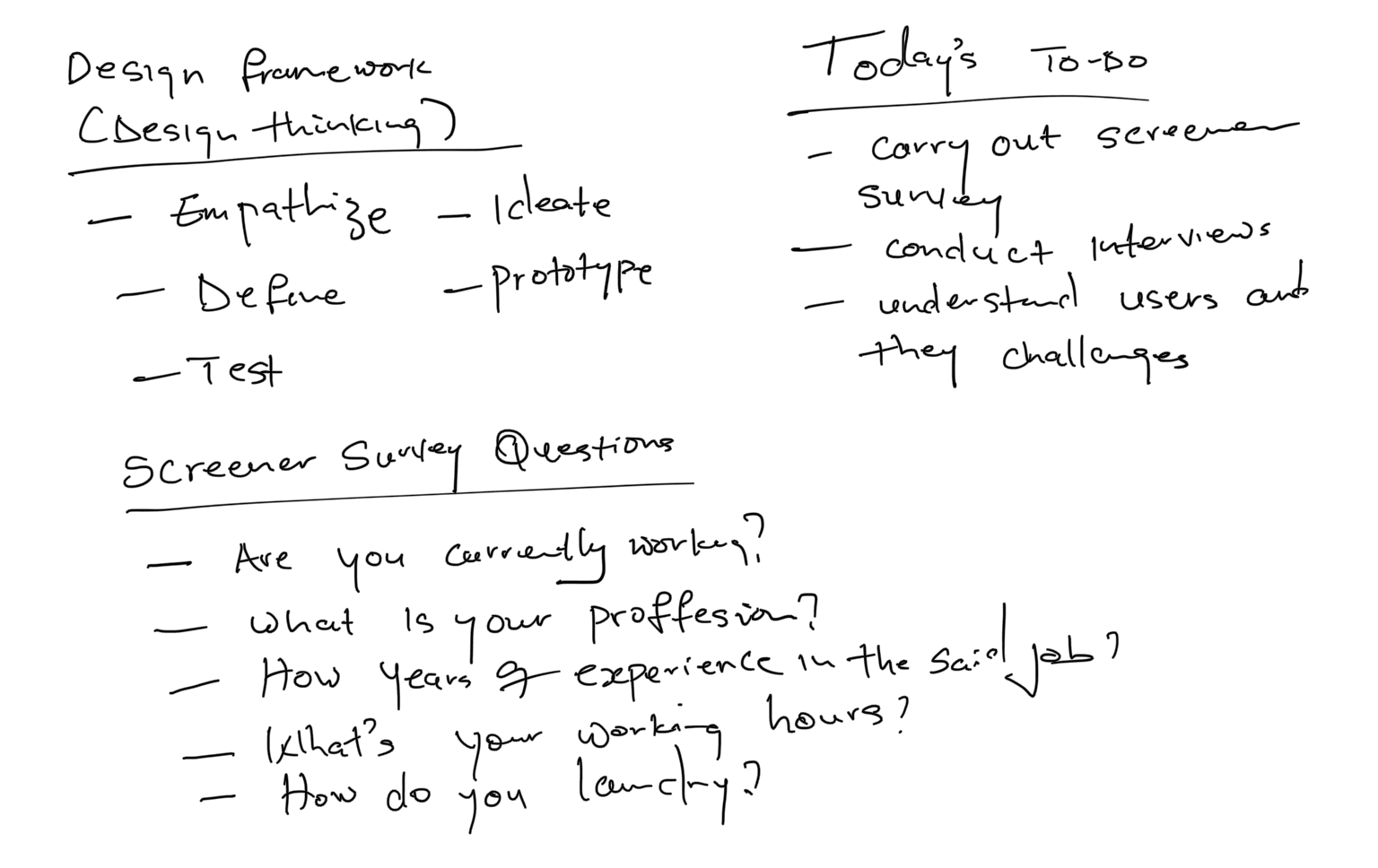 I sent out a screener survey first to select the kind of users I wanted to interview. This screener survey helped me to get users that are professionally employed. After the screener survey, I got ten (10) users. I then went on to interview them. I was interested in their current process of carrying out laundry and the challenges they faced with it.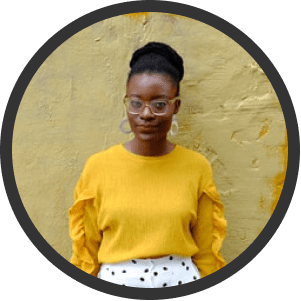 -Career Focused  -Tight schedules   -Hardworking
I am a career-focused individual who is very busy with work. I work from Monday to Sunday, and I don't have time to do my laundry myself. During the weekend, I give my laundry out to a roadside vendor. I'm usually tired and stressed out from work, so I would love my laundry vendor to come to pick up and deliver as of when due. Most roadside vendors don't keep up with timing, and some are not professional with their work.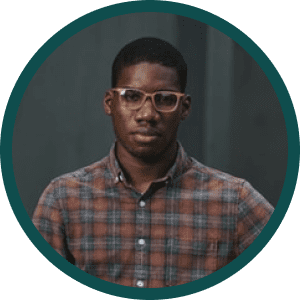 -Leader –Hardworking –Business Focused
As an IT founder, my daily routine involves meeting investors and catching up with meetings. I don't have the luxury of time to handle my laundry, so I employed a laundry vendor who cleans up my clothes weekly. Within a space of 3months, I have changed five (5) laundry vendors because of their poor customer satisfaction. I just wished to get a good laundry vendor to handle my clothes.
My next step was to tell the story of how my primary personas currently do their laundry. I used a customer journey map, so I will understand their current process of carrying out laundry and then gain insights into their common user pain points.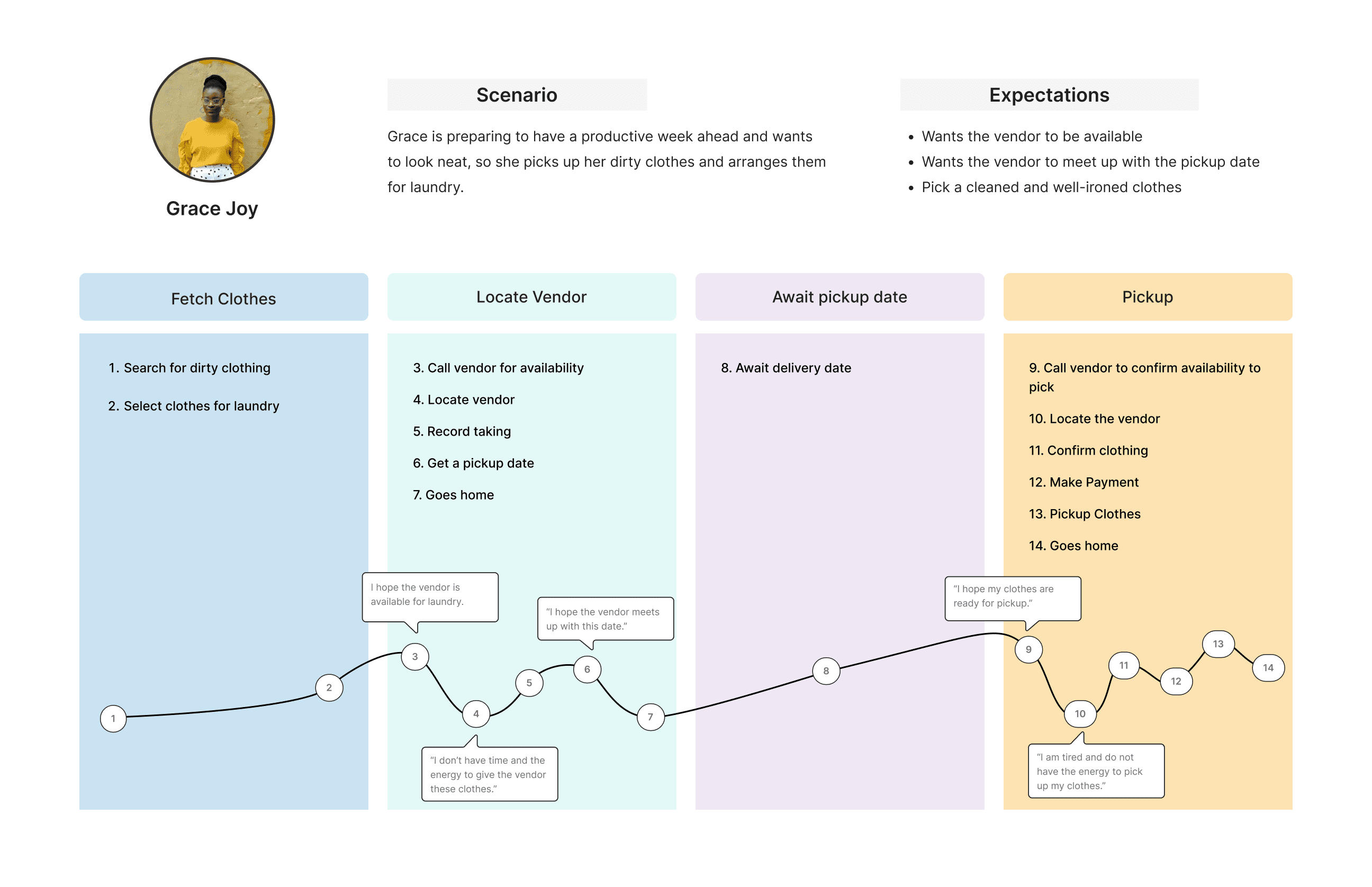 I proposed a new flow for carrying out laundry based on my findings, understanding the user journey map of my primary persona.
One key pain point they faced was locating the vendor and picking up their clothes. I introduced setting up pickup/delivery details while scheduling a pickup as the solution. This way, vendors can come and pick up/deliver to the user when they are available.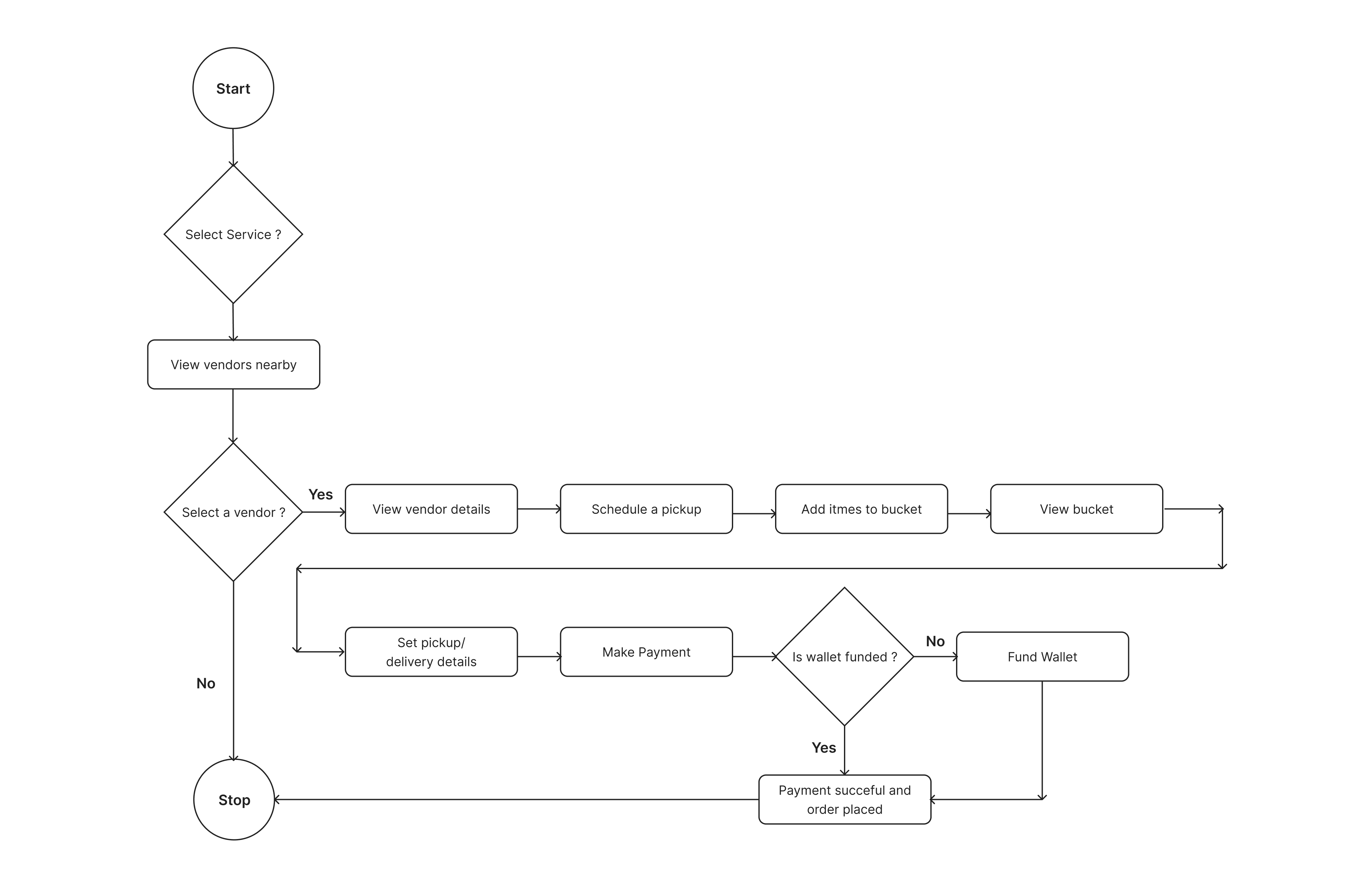 Before I started to design, I kept in mind all I collected during my research – my personas, the user pain points, and the new flow I suggested. The paper wireframe will give me a look of what Relaywash will look like before jumping into the high-fidelity wireframe.
I did some consultations with my mentors and peers before putting out the final sketch of the wireframe.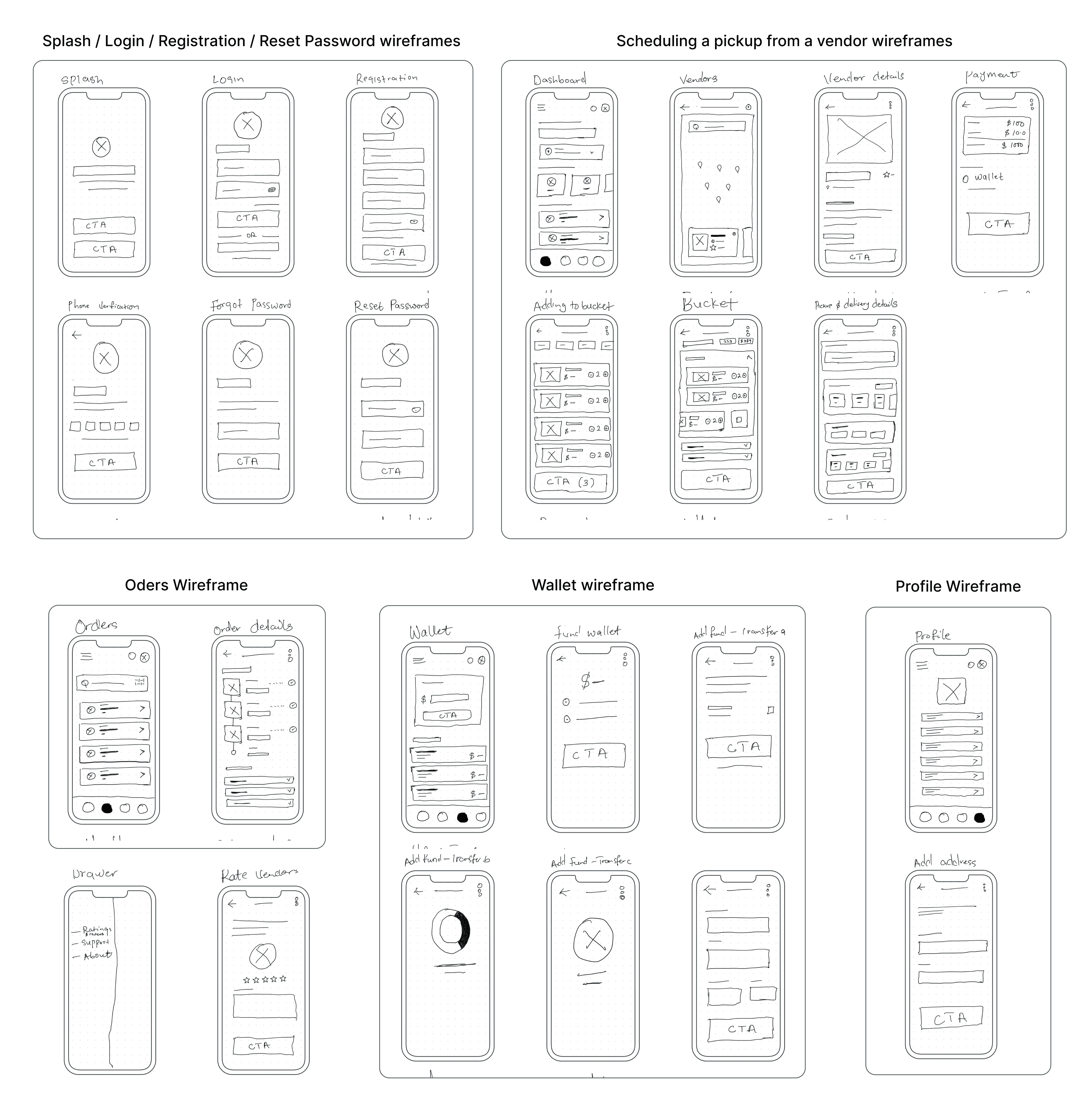 Next, I had to create the digital wireframes for the paper wireframes I have made initially – this gave my design a more realistic look. 
I did a lot of work here, making sure it meets up the primary goal of the project. I also added a new screen for notifications – I got this idea after discussing the wireframes with my peers and mentors.
At this stage, I had to create a more realistic design. It will go a long way in carrying out a usability study for my design.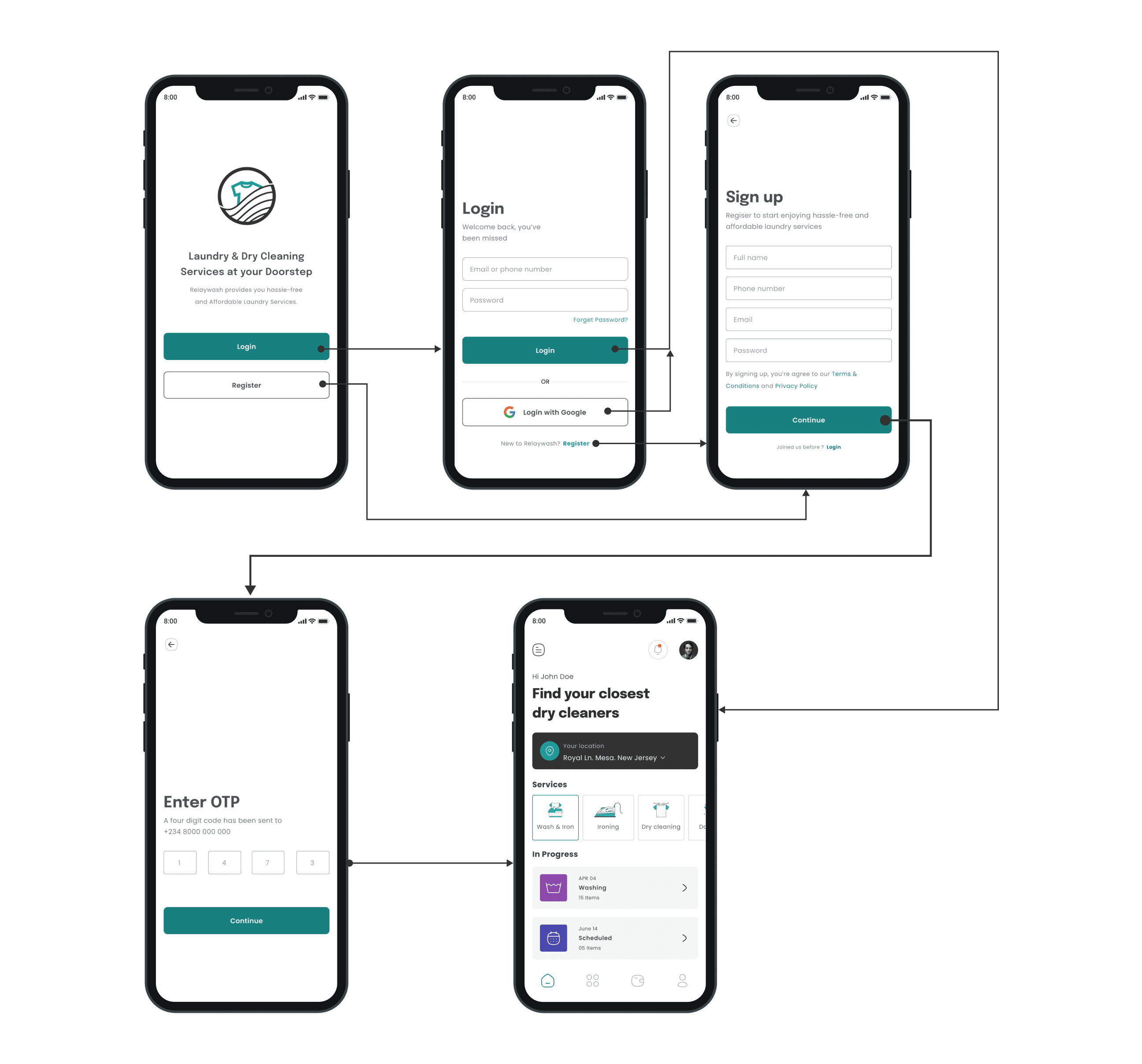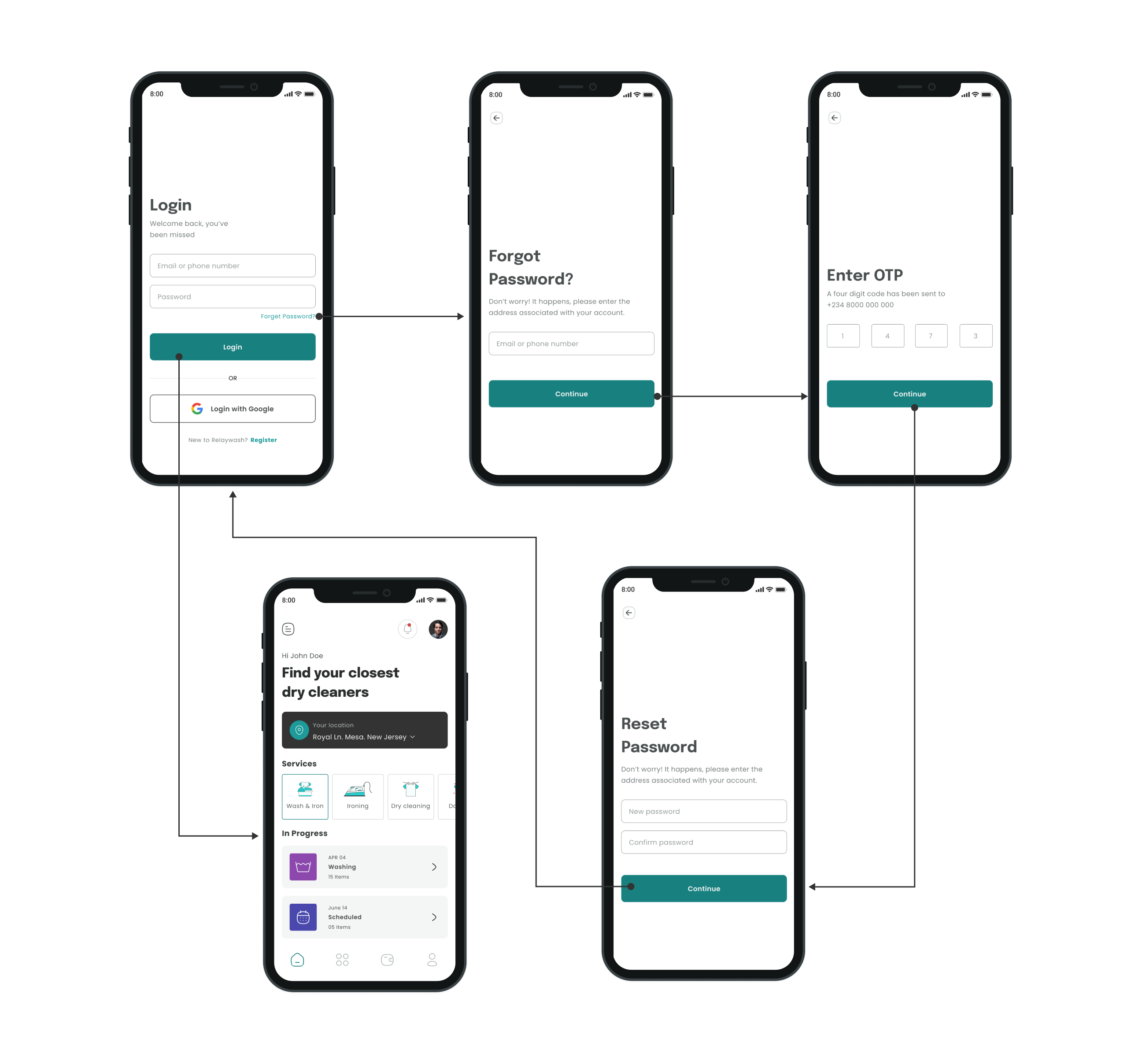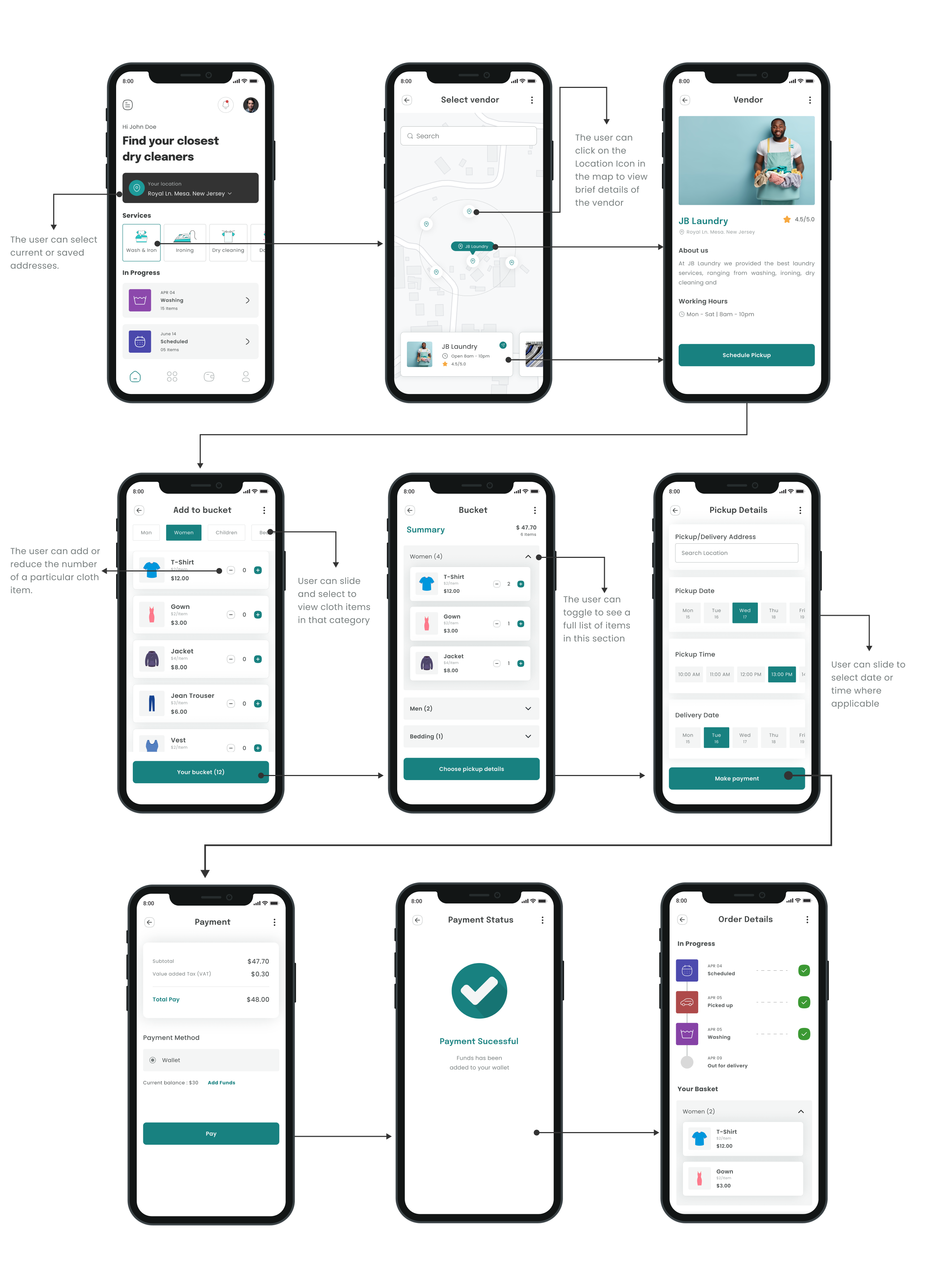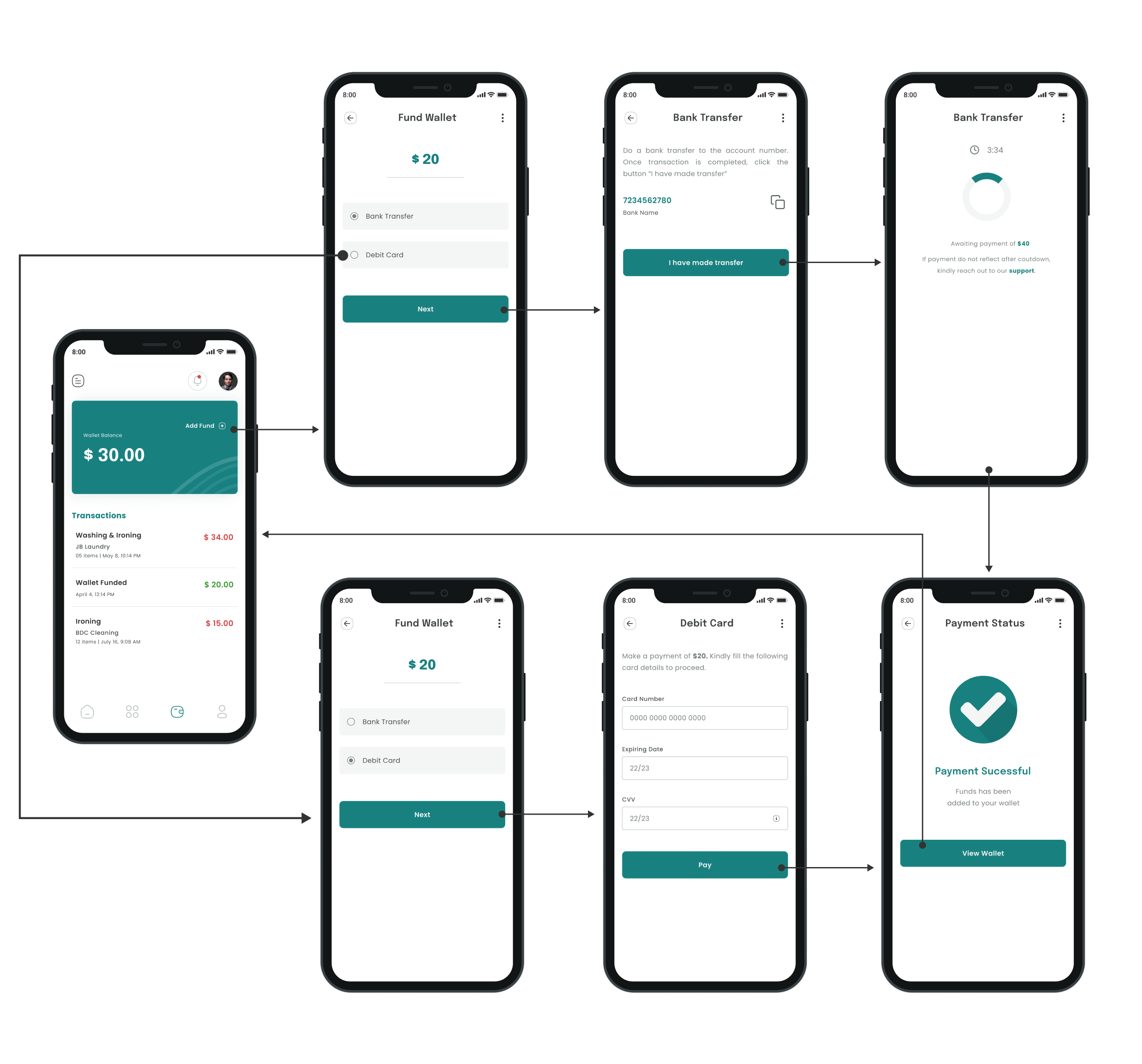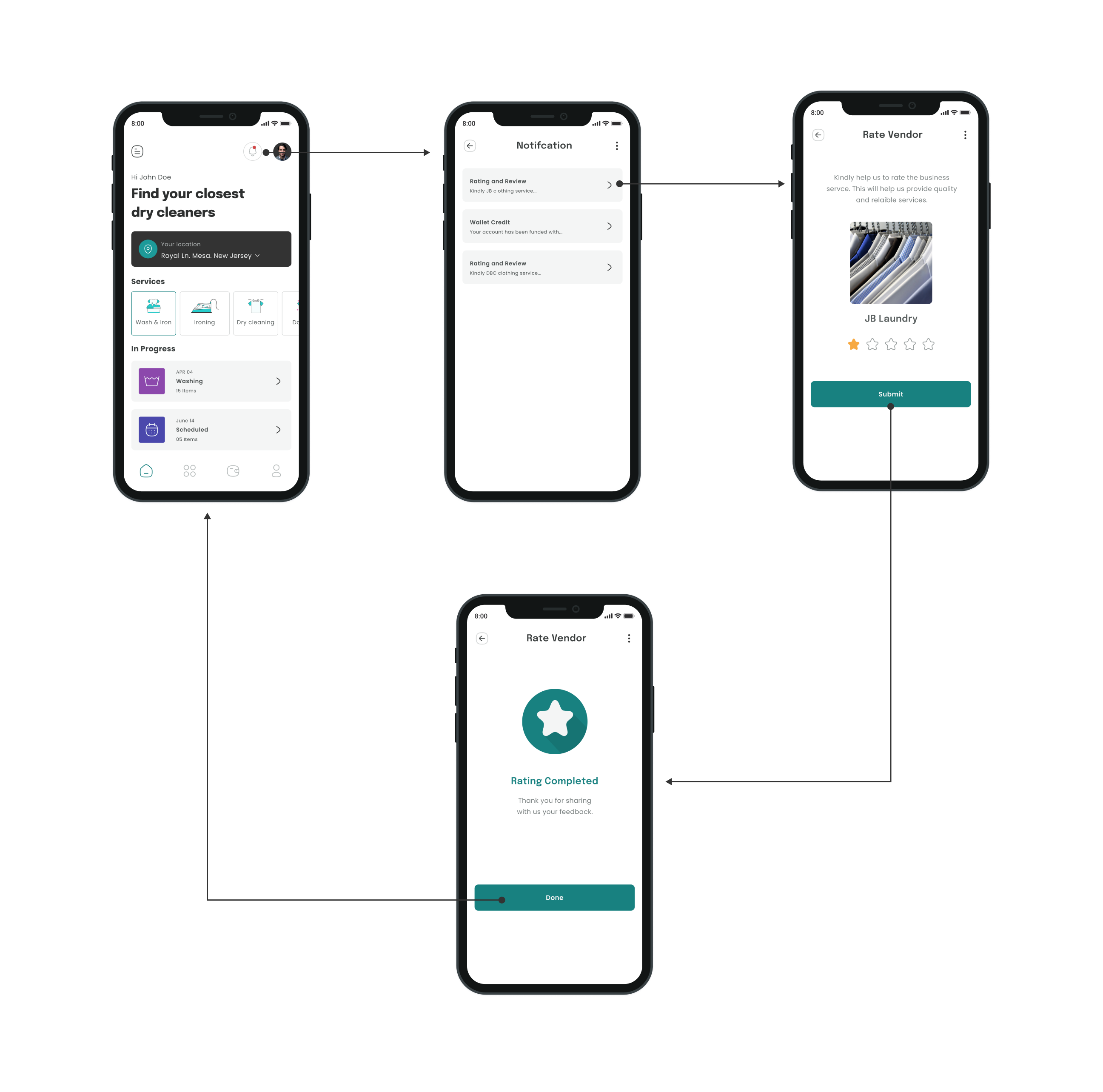 After completing the prototype, I went on to conduct a usability study. Below are my findings after carrying out the study.
1. Deleting Item from bucket list.
Upon conducting the usability study, I found out that most users would want to remove certain items from their current bucket list before making their payment. There was no provision for this, so I went on to implement this feature.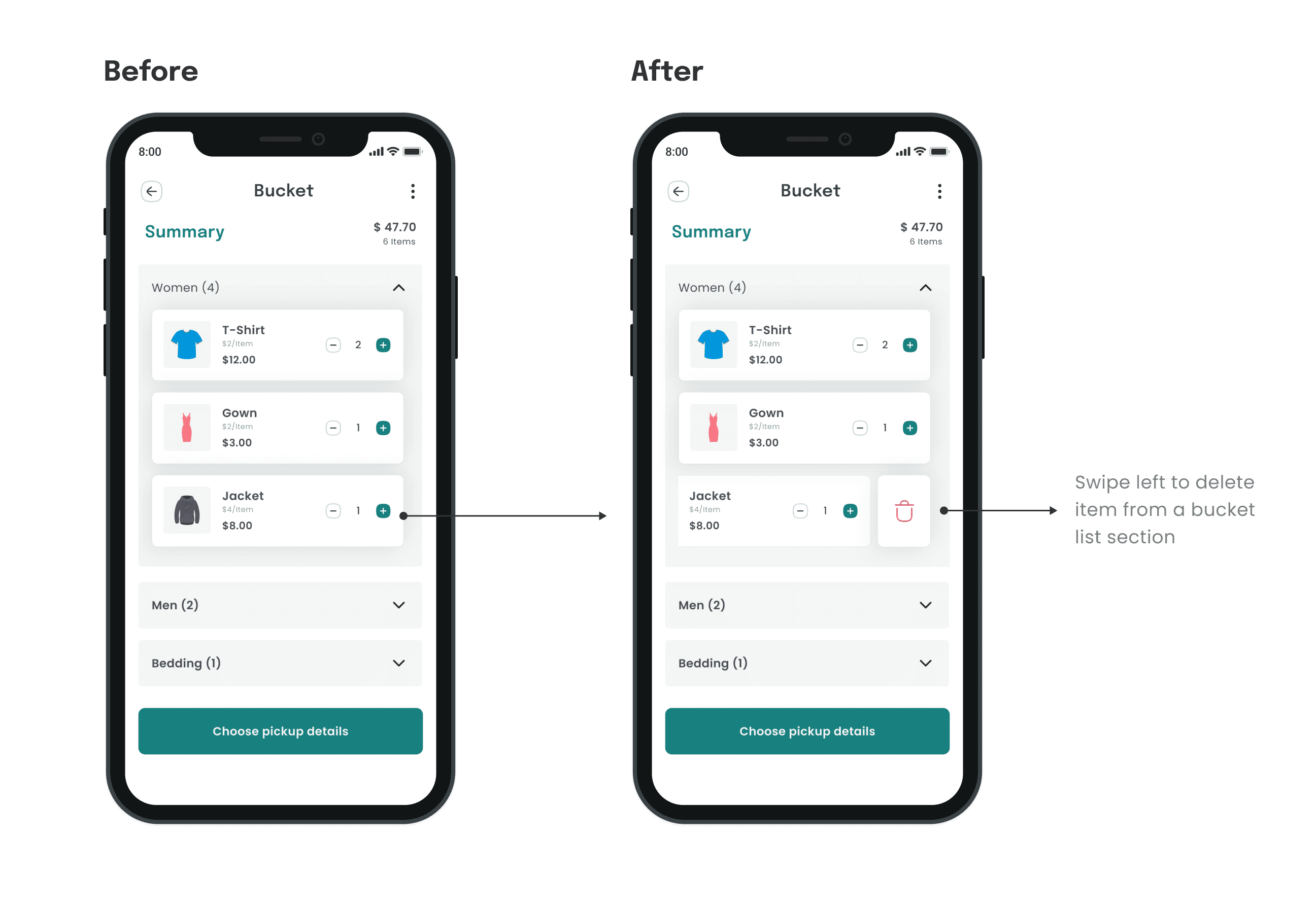 In the flow where the user's wallet has no funds while scheduling a pickup, the user can use the add fund link to fund their wallet. While conducting a usability study, I discovered that all users were lost trying to go back to their bucket lists after funding their wallets. I added a bucket list navigation to solve this challenge.
3. Communicating with Vendor
While conducting my study, I found that users would love to know more about the vendors before scheduling a pickup, so I solved this challenge by adding an in-app call feature for more enquires.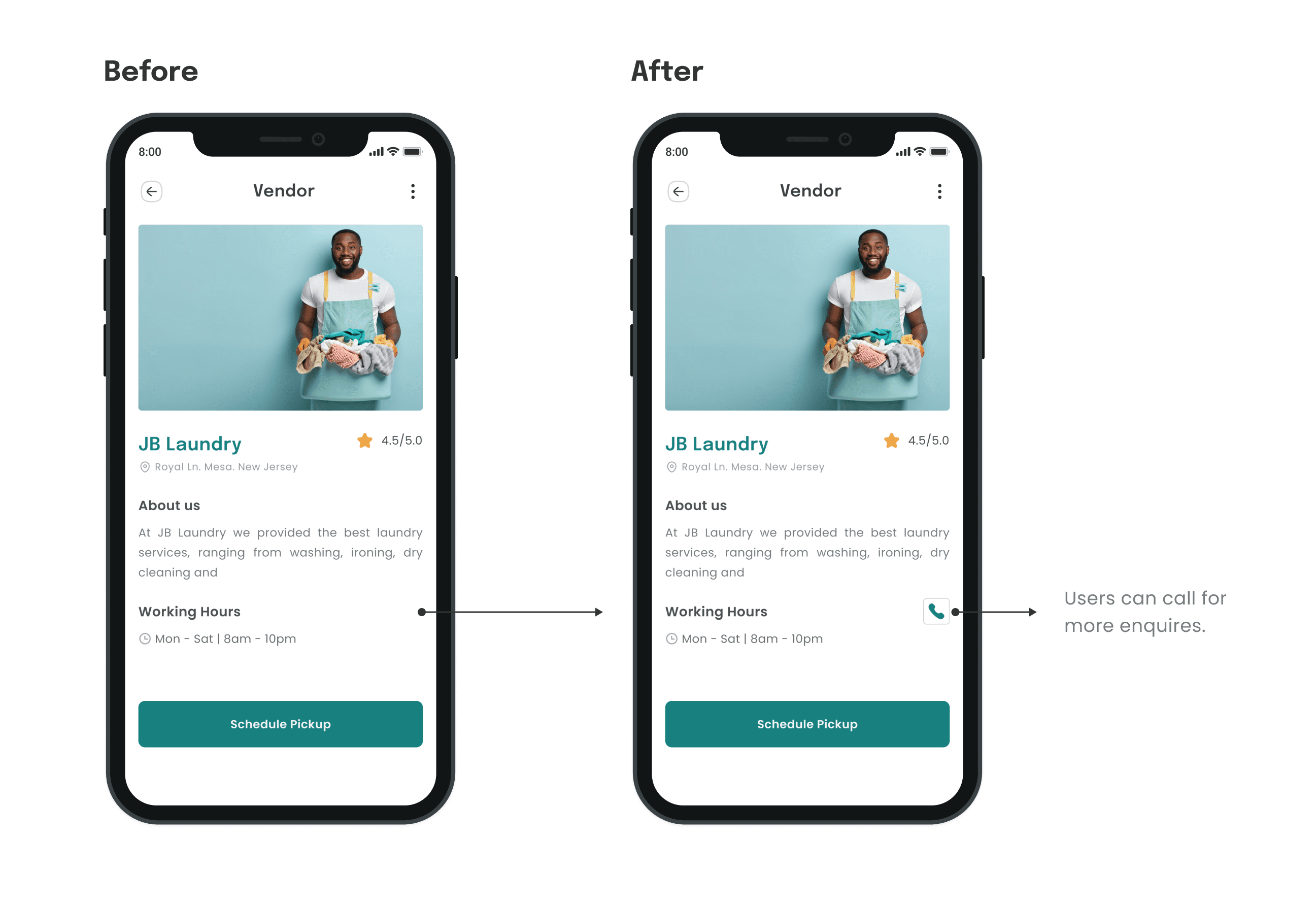 Final Design and Prototype
To your right is a clickable prototype of the Relaywash application. You can try out the following tasks.
Login

Create an account

Password Reset

Schedule pickup

View Orders – check order status

View Bucket

Fund wallet – card or bank

View Profile – Edit pickup/deliver addresses & Logout

Rate vendors (hint: use the notification status to do this)
I will also be glad if I get your feedback.  🤗 Click here send your feedbacks. Thanks
The eastern blue signifies trust. It also represents wisdom, mental force, curiosity, insight, intuition and sensitivity.
The mineshaft is a very saturated dark-cold azure, and the blue is a cool-calming colour that shows creativity and intelligence, which is the reason for my choice.
My heading typeface of choice for the Rewlaywash app is Epilogue. I felt that this is the best fit for the app due to its unique typeface and available styles. I also supported this type with Poppins for my body contents.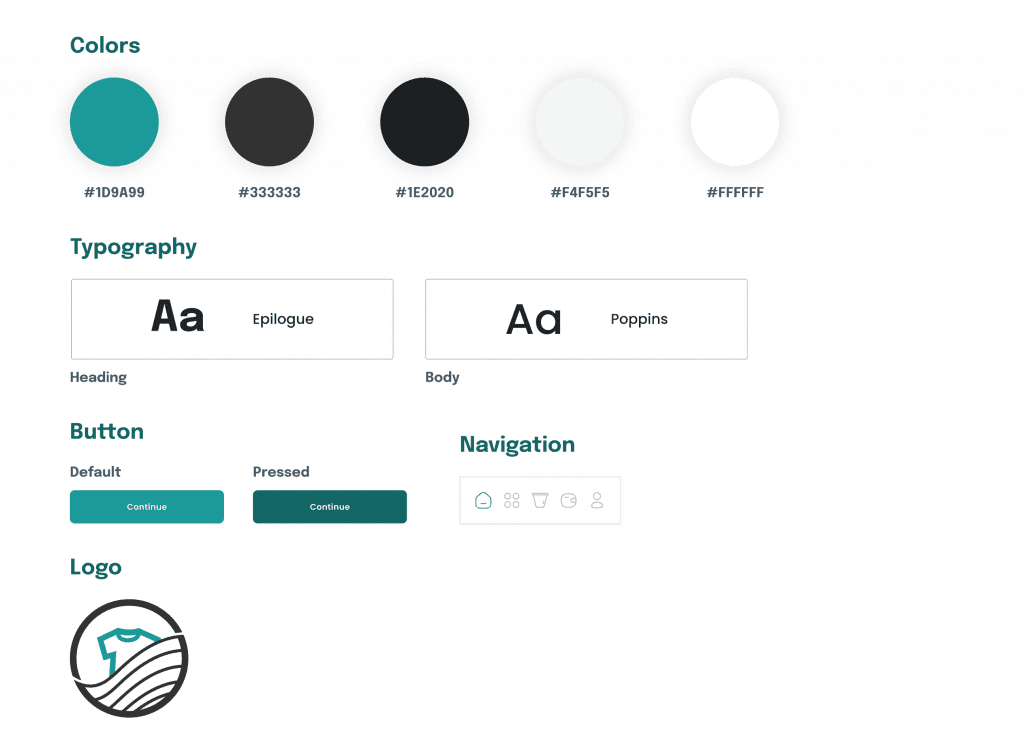 Working on Relaywash was challenging and as well fun. I learned a lot from this project, especially the importance of usability testing. These experiences have shaped my approach to design and why users should be at the centre of my design approach.
Considering more vendors will be onboarded in the future, I will implement a listing feature for vendors alongside the map feature. It will solve the problem of vendors overlapping each other on the map within the same location.